Are you new to the area? Is your child starting school? Is your child struggling to make friends?

It is hard for parents to watch their child having trouble making friends in the classroom, on the playground, in the neighborhood, or any other place children their age mix and mingle.

Parents feel their children's feelings and want them to be happy. However, trying to solve their children's problems for them is ultimately not a solution. Instead, parents may guide their children in the right direction and get involved by talking with their child's teacher, read books about friendship (also check out our article 10 Books for the First Day Of School), model behavior, try role play, or give them tools that may help them find their way and build relationships and friendships on their own.

Below is a one tool that will help your child break the ice at and outside of school.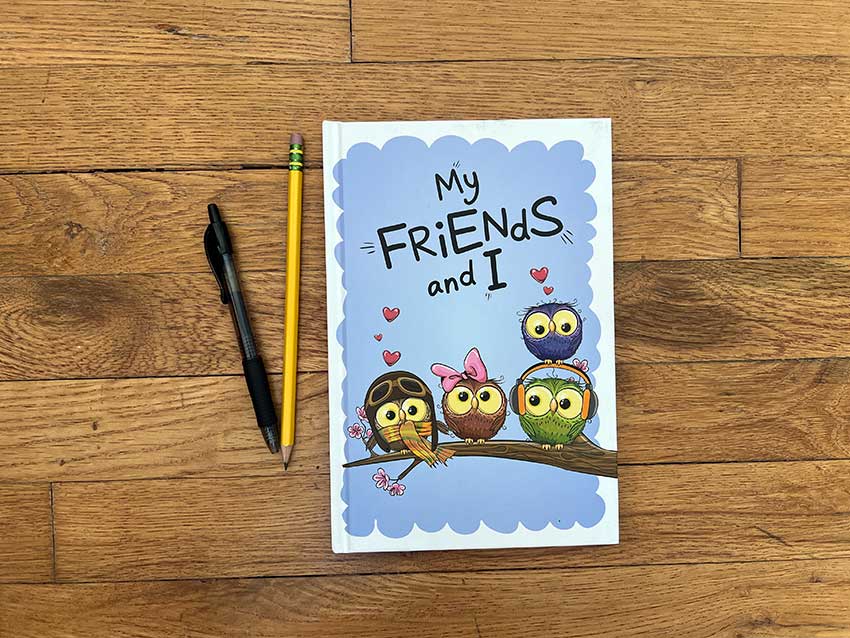 The My Friends and I book
The My Friends and I book is a great way for your child to get to know their peers and make new friends, whether it be at school, in a new neighborhood, at camp, at church, at sports activities, music lessons, art class, or any other group activities.

The book helps your child to make the often intimidating first step to approach other children and allows them to learn more about each other by asking questions like: What is your favorite food? What do you like to do in your free time? What songs do you like to listen to? What books do you like to read? What do you want to be when you grow up?

How the My Friends and I book works
First, your child will answer all the questions on the first two pages of the book. There are basic questions such as name, birthday, family members, pets, eye and hair color, height, the town they live in, the school they go to and what grade they're in. These are followed by questions about things your child likes and likes to do, such as their favorite food, favorite color, favorite book, favorite movie, favorite game, favorite activities, etc.

After that, your child will give the book to friends, classmates, teachers, coaches, family members, or any other person that is part of their lives. Once they have answered all the questions and filled out their two pages, they will return the book to your child and your child can give the book to the next person. The book has room for 39 friends.

How the My Friends and I book can help your child make friends
The book not only helps your child to get to know other kids by reading through their answers, it also allows other children to get to know your child by reading through the first two pages your child has filled out!  
Interesting facts
The children may find out interesting facts about each other, that can serve as a conversation starter. Encourage your child to ask questions like "Tell me more about…", "Wow, you know how to crochet? Can you show me how to do it?", "You have an iguana as a pet? What does it eat?". 
Similarities
Your child may learn that some of their peers live in their neighborhood or like the same activities. Encourage them to dig deeper, aka "I live in XYZ, too! Where exactly do you live? Maybe we're neighbors!", "I love smoothies! What's your favorite flavor?", "I play soccer, too! What's your position?".
New activities
Seeing what activities other children participate in, may encourage your child to try something new or convince them to do something they were always interested in, such as playing a sport or a musical instrument or taking art or cooking classes. Participating in activities gives your child further opportunities to meet and make friends. Encourage questions like "You play piano? I always wanted to try that. Where do you take lessons?", "What equipment do you need to play ice hockey?", "What kind of food do you like to cook?".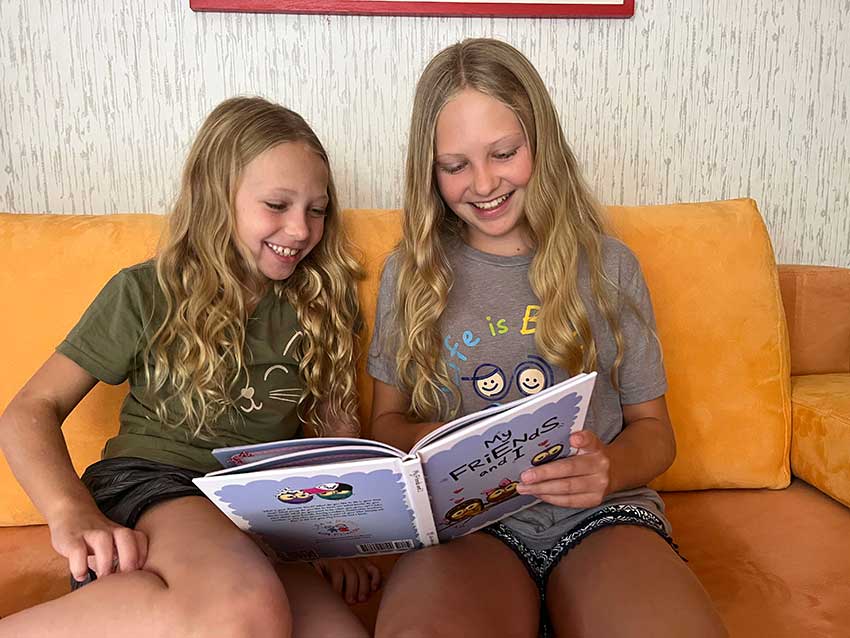 Where to make friends with the My Friends and I book
There are so many places and occasions your child can bring their My Friends and I book to:
School – get to know your classmates and teachers
Extracurricular activities – let your teammates, group members, fellow students, coaches, and instructors sign your book
Camp – remember the fun time and your fellow campers you met at camp
Church – connect with kids at children ministries, bible schools, church camps, and youth programs
Girl and Boy Scouts – scouting is about fun, character, leadership, development, community, family – and friendship
Family reunions – find out more about your family
Vacation – make new friends while on vacation
Little Libraries – leave your book in your neighborhood's Little Library and get to know the neighbor kids
Where to get a My Friends and I book for your child
The My Friends and I book is available right here. As always, shipping is free.
Get a book for your child, their friends, or their soon-to-be-friends, and help them start making memories together.